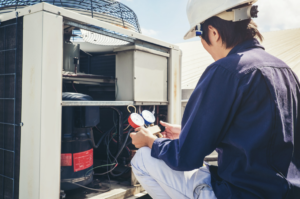 Business owners know that if heating, ventilation and air conditioning systems malfunction, it causes problems for employees, customers and productivity. In addition, HVAC repairs can be expensive. There are ways to ensure that your Houston commercial HVAC system runs efficiently and is less likely to break down.
Schedule Preventive Maintenance
Studies show that regular maintenance keeps HVAC systems running smoothly. It reduces energy consumption and lowers the likelihood of the need for expensive repairs. Also, your equipment will have a longer life, which delays the need to replace a system. Scheduled maintenance can identify small problems as they happen. Quick attention to these small repairs prevents them from turning into larger, more expensive issues.
During a maintenance session, HVAC technicians will examine each piece of your Houston commercial HVAC system to make sure that each component functions properly. Depending on the type of equipment, maintenance can reduce energy use by up to 40%. In contrast, lack of maintenance can increase energy consumption by as much as 60%.
According to the CDC, lack of maintenance and improper operation of HVAC systems affect indoor air quality and ventilation. This is particularly important for hospitals, healthcare centers and laboratories. A Houston healthcare facility services company can ensure that the indoor air quality meets required standards.
Attend to Small Repairs Immediately
If your HVAC system is making strange noises, is not cooling effectively or shows other signs of system problems, call a qualified Houston commercial HVAC service immediately. Small repairs can often be made with minimal or no down time, which is an important factor in keeping your business running smoothly.
Not attending to repairs immediately can affect other aspects of your business. For example, computers and telecommunication equipment must operate in controlled environments. When an HVAC system fails to regulate temperature and humidity, these services may be interrupted. If the environment of designated cool rooms, operation theaters and critical spaces is not properly controlled, you may face expensive repairs for this equipment.
Call the Experts for Professional Houston Building Maintenance Service
Maintaining It Right Enterprises has provided a full suite of building maintenance services for hospitals, healthcare facilities and other businesses in the greater Houston area for many years. We not only provide HVAC maintenance and repair. We also offer customized maintenance services that address the needs of an entire facility. This includes lighting, electrical repairs, plumbing repairs, parking lot maintenance and disaster response services. Because we attend to all components of Houston building maintenance, there is a lower likelihood of experiencing major repairs due to poor of coordination of services. Our computerized maintenance logs schedule maintenance to keep your commercial enterprise on track.
For more information about our commercial HVAC preventive maintenance services, call MIR at (281) 469-2140.