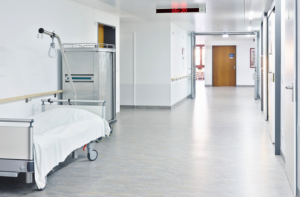 A primary responsibility of a healthcare facility is to prevent healthcare-associated infections. Companies providing Houston healthcare facilities services must ensure cleanliness, maintenance of sterile areas, environmental hygiene, clean air and proper sanitation. A clean environment enhances patient recovery and enables staff to work effectively, efficiently and safely.
General Maintenance
Maintenance companies must work closely with hospital staff to ensure that equipment, infrastructure and internal spaces are properly maintained. Professional maintenance staff can identify potential safety hazards, report irregularities and correct problems that affect patient safety, such as:
Adequate separation of construction or renovation areas to prevent transmission of dust, microorganisms and other airborne pollutants that can compromise patient health.
Maintenance of drinking fountains, ice machines, sinks and other water delivery sources.
Proper cleaning of surfaces, including floors, walls and furniture.
In addition, a Houston healthcare facilities services provider should ensure that critical materials are correctly separated, stored and disposed of:
Safe storage of supplies and properly maintained supply areas.
Separation of soiled linens from clean areas.
Safe disposal of biohazardous materials.
Appropriate separation and disposal of non-hazardous waste.
HVAC Maintenance
Houston commercial HVAC maintenance is important in keeping facilities well ventilated and ensuring indoor comfort. Air conditioning systems keep air clean, reduce mold and control temperature and humidity. Many diseases and microbes are spread through the air. Well-maintained environmental controls prevent dispersal of airborne contaminants. Properly functioning ventilation systems are directly correlated with patient and staff comfort and safety.
HVAC maintenance in healthcare settings should include:
Ensuring proper pressure in operating theaters, storage areas, isolation rooms and rooms containing soiled materials. Improperly closed doors, dirty grilles or damaged windows can affect pressure.
Maintaining air filters for efficient operation of HVAC equipment. Dirty filters restrict airflow and can allow contaminants to escape filtration and enter ducts. Filters should be carefully inspected to ensure they are properly fitted to the air handler.
Cleaning and disinfecting cooling towers and condensate systems according to industry standards. Waterborne microbes, such as Legionella bacterium, can thrive in poorly maintained water systems.
Properly maintaining boilers and other systems that affect humidity and sterility.
High-Quality Houston Healthcare Facilities Services
Maintaining It Right – MIR Enterprises has provided high-quality maintenance services for Houston-area healthcare facilities for more than 20 years. We tailor our services to your needs, the size of your facility and your budget. We use customized, computerized maintenance logs to track work completed and plan required work. This ensures that defined systems are properly attended and provides a record of the maintenance performed. These logs help healthcare managers stay compliant with regulations and maintain standards.
MIR also provides Houston commercial lighting services, parking lot lighting services, painting, disaster response and 24-hour emergency service. We are licensed and insured. For more information about our healthcare facilities management services, call (281) 469-2140.