Concrete Services | Graffiti Removal
At M.I.R Enterprises, our professionals can provide graffiti removal. There's nothing worse than seeing a building that's been defaced by the aftermath of graffiti. Graffiti damage can negatively impact your property value, or prevent you from making a strong first impression, if left alone. Additionally, it is also a constant threat and an ongoing problem in most modern societies and metropolitan areas. Houston is particularly affected since it is a densely populated area. However, with the help of our professionals, we can remove and restore the exterior of your facility to look like new!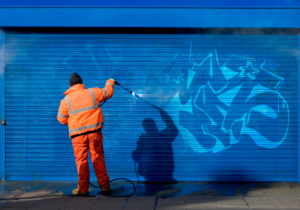 Have you noticed graffiti on the sides of buildings and private property around the city while commuting? M.I.R. Enterprises believes that graffiti is a scourge that does not have to be overlooked or tolerated. Allow us to reverse the hands of time and return your facility to its original beauty. We will do our best to make sure that your facility is graffiti free.
If you have any questions, or would like a free estimate on graffiti removal, please feel free to contact us.