Commercial HVAC Repair and Maintenance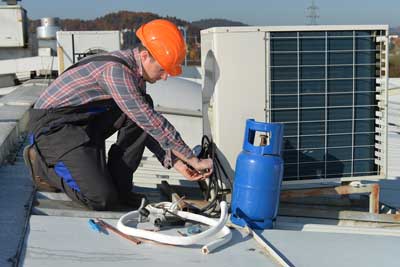 Your building's HVAC system keeps your building comfortable and healthy for all your occupants. Air filters, with their ability to remove microorganisms, can make a difference in indoor air quality. A scheduled maintenance program can ensure that these filters are changed and working properly at all times. Furthermore, one of the most common problems with commercial HVAC equipment is improper damper operation. Dampers are designed to keep the compressor from running when the outside air temperature is below 60 degrees Fahrenheit. M.I.R. Enterprises will use computerized maintenance logs to survey and ensure that your facility's HVAC is working properly and providing its occupants with good air quality, at the right temperature.
Our commercial HVAC services include:
Houston Commercial HVAC Maintenance
Houston Commercial HVAC Repair
Hot and Cold Calls
Energy Management Control Systems

Chiller and Package Unit Preventative Maintenance
Reasons to properly maintain your HVAC system:
Lower utility costs
Increase the service life of the HVAC equipment (reduce replacement costs)
Greater comfort for the building's occupants.
Deferred maintenance can become costly and ineffective in the following ways:
Increased energy consumption
Repairs are usually more costly because of a "cascading" effect in the system
Occupant comfort and related productivity
Poor reliability resulting in down time
Premature equipment aging and the accelerated need to replace equipment
Signs You Need Houston Commercial HVAC Repair
Even with the best maintenance program, you may need maintenance or repairs from time to time. Our team offers prompt, friendly HVAC repair services when you need them. If you notice the following signs, call our team today for inspection and Houston commercial HVAC repair:
Increased Absenteeism: Poor air quality can cause or worsen allergies, asthma, and respiratory illnesses. This can result in a sudden spike in absenteeism. If you've seen a recent increase in these issues, you may need Houston commercial HVAC maintenance or repair. Anything from dirty filters to broken HVAC components can make your occupants ill.
Noises: If you hear clicking, buzzing, humming, or clanking, this is also a sign you need Houston commercial HVAC repair. Many things can cause unusual sounds from your system. For example, electrical issues, broken parts, or even debris stuck in your outdoor unit.
Odors: There are many smells that may come from your system that signal you need Houston commercial HVAC repair.

Musty Smells: Mold and mildew in your system can cause musty odors that can lead to poor indoor air quality.
Burning/Metallic Smells: For burning or metallic smells, it's important to turn off your system and call your Houston commercial HVAC maintenance team. This can indicate short circuit, overheating compressors, or even wires melting.
Chemical/Sulfur Smells: For chemical or rotten egg odors, you should also turn off your system and call for Houston commercial HVAC repair services. Chemical smells could be a refrigerant leak in your system, while smelling sulfur may be a gas leak.
When you need expert commercial HVAC services at affordable rates, our team at M.I.R. Enterprises is here for you. Contact us to request service for your building or to set up a regular maintenance schedule.