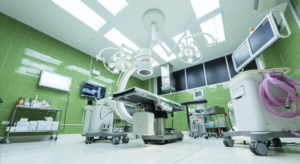 Your healthcare facility requires more than just equipment and qualified physicians to run smoothly. Healthcare buildings and their systems can often benefit from Houston healthcare facilities services to help their staff and patients. For example, your lighting and HVAC systems are important for running your facility. These systems require maintenance to ensure they operate efficiently and serve your needs.
HVAC Systems
Heating and cooling systems aren't just to keep your building comfortable. They are actually vital to running your healthcare facility. Your Houston commercial HVAC system helps provide health, safety, and comfort to all those inside.
Temperature regulation is essential for your facility. Rooms that are too hot or too cold can distract your nurses, surgeons, and physicians from providing the services essential to your patients. Especially for surgeons, overheating can be a big risk since they have to wear gowns, caps, and other attire to maintain a sterile environment.
Your HVAC system also helps circulate and filter air. This is important for infection and odor control. HVAC systems extract dirty air and switch it out for clean air, which can help prevent airborne diseases from spreading throughout the building. This function can also help remove any stubborn odors that linger after a room is disinfected. Houston healthcare facilities services can provide maintenance and repairs to your HVAC system to keep it operating at peak performance levels.
Lighting Services
Naturally, lighting is also important for your healthcare facility. Good lighting is necessary to provide medical care. It can also help patients feel more comfortable, as poor lighting can give your interior a depressing or shabby look. In addition, inadequate lighting can cause fatigue and eyestrain in both your staff and your patients.
Another thing to think about is your parking lot. Well-lit outdoor areas can increase safety and visibility of your healthcare facility. So, you may need Houston commercial lighting services to ensure the best outcomes for your facility, medical staff, and patients.
Maintaining It Right Enterprises provides these services and more, as a high-quality building maintenance company. We have over 20 years of experience providing specialized Houston healthcare facilities services, so you know you are getting the best for your facility.  Call us today at (281) 469-2140 to discuss your facility's needs and learn how we can help your operations. We look forward to the opportunity to serve you.