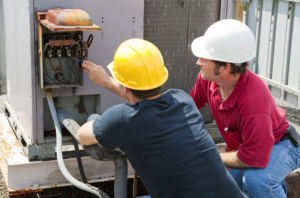 Your heating, ventilation and air conditioning equipment is a major investment and must be cared for by a qualified, licensed contractor. If you are looking for a reliable Houston commercial HVAC company but are not sure how to find one, there are several key qualifications to consider as you begin your search. Go through the process of hiring an HVAC contractor as you would hire any other contractor. Check references, verify professional qualifications, determine how long the contractor has been in business and talk to them about their business ethics, guarantees and warranties.
Create a List of Candidates
One of the best ways to find a reliable Houston commercial HVAC contractor is by word of mouth. Ask business associates and friends about people they recommend. Ask about reliability, timeliness, adherence to budget and follow-up. If you start with an internet search, narrow it down by calling contractors and asking for references. Call the references and ask the same questions that you asked your colleagues about their contractors.
If you need several services, ask what else the company offers. Companies offering multiple services, such as Houston commercial lighting services, HVAC maintenance and plumbing, have the advantage of reducing the number of contractors that a business must interact with. Some companies specialize in a particular type of maintenance, such as Houston healthcare facilities services.
Verify Professional Qualifications
Third-party verification is important when looking for a reliable contractor. In Texas, HVAC contractors are required to be licensed. Verify that licenses are in place. In addition, ask if the company is insured and bonded for both client and employee safety. Ask how long the company has been in business. Make sure they have a physical address in the local community.
Determine performance and customer satisfaction using reliable sources, such as the Better Business Bureau. The Dunn and Bradstreet Business Directory lists verified building maintenance contractors throughout the United States. The reliability of companies can often be verified through local chambers of commerce. Many companies are affiliated with professional organizations related to their industry, such as the Air Conditioning Contractors of America or International Facility Management Association.
Best Business Practices
Interview the company about their guarantees, warranties and follow-up services. Reliable companies will evaluate the work onsite before providing an estimate. Always get a written estimate that details labor and equipment costs. Ask about scheduling and the amount of time required to complete the work.
Breakdowns and emergencies do not always happen during business hours. If your air conditioning system stops working, your employees and customers are affected. A well-respected company will provide 24-hour emergency services. In addition, many schedule maintenance sessions during off-hours to minimize disruption to a business.
Maintaining It Right Enterprises has provided lighting, HVAC and healthcare facilities services in the greater Houston area since 1994. We customize our maintenance services to meet your business needs. For more information about our Houston commercial HVAC services, call 281-469-2140.