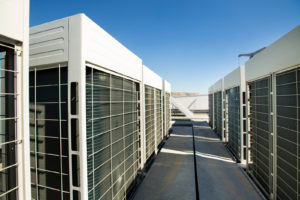 Keeping up with maintenance can seem overwhelming to a building manager. However, deferring maintenance usually causes more headaches and expenses in the long run. Maintenance catches small problems before they become bigger. Keeping the HVAC system properly maintained cuts energy costs, ensures the system operates efficiently and provides better indoor air quality. A reliable, licensed Houston commercial HVAC services company can schedule and perform maintenance checkups to keep your system running efficiently. Maintaining It Right Enterprises provides Houston healthcare facilities services and other commercial building maintenance. Here are a few reasons why planned maintenance saves money and resources.
Better Energy Efficiency
Heating and cooling account for approximately 40% of annual energy costs in commercial buildings. Good maintenance practices can cut HVAC energy costs by up to 40% depending on the type and age of a system. In contrast, poor maintenance can increase energy usage by up to 60%. Simply ensuring that air flows properly through a system can save 10% on energy costs. For specialized rooms, such as laboratories, operation theaters or cleanrooms, savings will be more. Houston commercial HVAC services examine, clean and calibrate each component of a system to optimize performance.
Improved Indoor Air Quality
Keeping the heating and cooling system well maintained contributes to good indoor air quality. Studies show that poorly maintained systems can affect the health of building occupants. In commercial HVAC systems, microbes in the chiller system not only affect the transfer of heat, which reduces efficiency. They also pose a health hazard if they are blown into the building through the ventilation system. In addition, dirty filters breed mold and other pathogens that can cause respiratory problems or other health issues.
Although chemical treatment systems are included in most chillers, these systems must be monitored. Houston commercial HVAC services examine every component of the HVAC system during a maintenance checkup, including filters, refrigerant, thermostat controls, fans, sensors, valves, condensers and compressors. Services also involve checking for leaks that can allow the release of dangerous gases.
Enhanced Safety
Maintenance reduces the risk of fires, poor air quality or complete system failure. The chance of fire increases as maintenance declines. Overheated components, blocked air filters or poorly maintained electrical systems can cause fires. Key components, including heat exchangers, refrigerant lines or ventilation systems, can release toxic gases or carbon monoxide. System failure, fire and poor air quality affect your business. In a healthcare facility, it can be a matter of life and death. As part of our Houston building maintenance services, we check ductwork, electrical controls, lighting and other components that affect safety.
We perform free building audits. To stay on top of maintenance, call MIR Enterprises at 281.469.2140 to schedule Houston commercial HVAC services or other building maintenance service. We serve the greater Houston area, including Conroe.