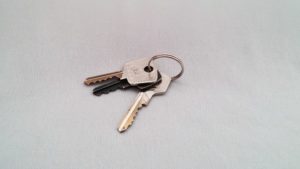 There's no way to avoid the embarrassment of forgetting your keys & locking yourself out of a building, whether it's your home or your own business! You could struggle & try to go the DIY route of breaking into wherever you're trying to go, or you could take the easy route, and call our professional locksmiths to the rescue.
In case you hadn't heard, M.I.R. Enterprises does it all! We will get you in & out of wherever you need to go as soon as we can when you find that you've locked yourself out. If you've misplaced a key for good, we also offer to rekey a lock for your commercial building.
To make sure you don't get locked out again, we've got a list of things you can do:
Routine Pat Down
Stop before leaving your home, office, or business to see if you have the items you always need with you. "Keys? Phone? Wallet?" is a good little phrase you can turn into a routine 'saying' before you step out the door.
The Good 'Ol Spare Key
Make a duplicate key & have your co-worker, neighbor, or friend keep it on hand for emergencies. If that's not an option, hide it somewhere that is pretty secure & not easily seen.
Check The Perimeter
You may have been locked out of the front entrance of your building, but what if there's a chance the back door is unlocked? What about a window that you can easily open from the outside?
If you find yourself stuck in a bind again (even after following our tips!), our team is more than willing to come to the rescue!
Now, before we go, here's one last thing: As a business, you not only hire, but fire, a good number of employees every year, especially if it's a larger company. To assure that there's no chance of a terminated or past employee getting unauthorized access the building, we are fully capable of going through & changing each lock in your facility that they could possibly access. We're here to serve you!