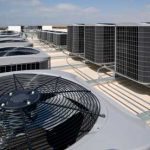 Finding the right Houston commercial HVAC company for your business properties can ensure the greatest comfort for your tenants and staff members. Commercial HVAC services vary significantly from their residential counterparts in Houston. The systems used to heat and cool large buildings require added expertise and a different set of skills to repair and maintain effectively. Here are some of the most important differences between residential and commercial heating and cooling systems.
Power Requirements
While the energy required to run a home air conditioning system can be substantial, commercial HVAC systems typically need much more power to heat and cool bigger buildings. The higher occupancy rate of these buildings can result in greater need for cooling during the summer months. This can put a significant drain on available power. By working with a company that specializes in Houston building maintenance services, you can be sure that your electrical system is up to the task of powering your HVAC system even under peak loads.
Drainage Issues
In residential heating and cooling systems, the condensate drain pan is used to collect water from air conditioning units. For commercial HVAC systems, however, the amount of moisture produced is much larger and the need for adequate drainage even more critical. The plumbing and piping required for these large-scale cooling systems must be maintained and checked regularly to avoid unpleasant surprises and damage to commercial properties.
Modular Design
It rarely takes more than one system to maintain climate control for a single-family residence. Commercial HVAC installations, by contrast, are usually designed to allow expansion and consist of various components linked by control systems. These units work together to produce the heating and cooling needed to ensure indoor comfort. In some cases, ductless systems can be combined with regular central air conditioning units to provide customized comfort for every part of your commercial living and working spaces.
Architectural Footprint
Because home systems are relatively small, the condenser units can usually be placed outside the home with the rest of the heating and cooling equipment remaining indoors. The size and scale of commercial HVAC equipment, however, usually requires a larger space to operate effectively. Rooftop placement is one of the most common configurations for commercial installations and reduces the ambient noise created by these HVAC systems.
At M.I.R. Enterprises, we offer a wide range of commercial HVAC solutions that include Houston healthcare facilities services and maintenance for hotels, apartment complexes and office spaces. We work with your company or building management team to make sure that your heating and cooling systems perform to your complete satisfaction. To schedule an appointment for Houston commercial HVAC maintenance or to request a free building audit quote, call us today at 281-469-2140. Our experienced and friendly technicians will be happy to assist you with all your commercial maintenance needs.