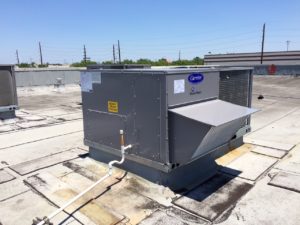 Preventive Houston commercial HVAC maintenance can benefit your entire business, from your reputation to your bottom line. Business owners hear many anecdotes about the benefits of preventive maintenance. Now, there are numbers that back up the claims. If you are looking for a lucrative financial opportunity, invest in the maintenance of your HVAC equipment. The returns are outstanding.
Substantial Savings
When commercial real estate managers wanted decision-makers to increase the HVAC maintenance budget, they turned to the experts at Jones Lang Lasalle (JLL) to compare the costs of preventive and reactive maintenance over the life of the equipment. From year to year, the cost to repair equipment and replace critical parts is significantly higher than the cost of preventive maintenance. In most cases, maintenance costs a few cents per square foot. JLL found that preventive maintenance for chillers and other industrial and commercial HVAC equipment had an ROI of 545 percent compared to systems that did not have maintenance.
For example, a 350-ton Houston commercial HVAC system might cost $350,000 to replace. Maintenance costs just $5,500 per year. The cost decrease is dramatic because the lifespan of the equipment is extended significantly. The longer you can maintain a system, the bigger the savings. The same holds true in smaller commercial buildings. You can also expect energy bills to be about 7 percent lower since seasonal maintenance prevents decreases in efficiency that would occur otherwise. When expenses are reduced, profits increase. These are some exciting reasons to invest in regular maintenance.
Maintenance Practices
Maintenance requirements vary depending on the age, type and condition of the HVAC equipment. However, preventive maintenance will always produce a significant return on investment. Chillers with centrifugal or reciprocating compressors require inspections and care each season, but the returns are sizeable. Your business will reap financial benefits when Houston commercial HVAC services are used to maintain air handlers, boilers, cooling towers, rooftop package units, condensers and compressors. However, maintenance must be completed regularly to be fully effective.
Spring and Fall Maintenance
Seasonal tune-ups are traditionally completed in the spring and fall when your building switches between heating and cooling. Ideally, your building maintenance team should complete these tasks before the heating or cooling season begins so that you can avoid hot and cold calls and fix any problems before they happen or increase in severity. Because tasks will not be as effective if they are completed months in advance, heating systems should be maintained in the fall. Air conditioners should be serviced in the spring. Air handlers and components that are shared by heating and cooling systems should be serviced twice a year. Scheduling tune-ups on-time is good practice. It will help your business avoid the technician's busy season and get ahead of everyone else. Even if the maintenance is completed a little bit later in the season, your company will still realize the benefits.
Seasonal Maintenance Tasks
Efficient heating and cooling depends on electrical, mechanical and pneumatic components working perfectly. Here are some of the tasks that we complete during pre-season tune-ups.
Test thermostats and energy management controls
Check and tighten electrical connections
Inspect contactors and fuses
Clean air handlers, plenums and coils
Lubricate moving parts, motors and bearings
Monitor heating or cooling cycles
Inspect and clean condensate and roof drains
Check refrigerant and fluid levels
Replace air filters
Maintenance services are tailored to your equipment and its maintenance requirements. Some heating and cooling systems may not require all of these services. Others should have additional tasks completed to ensure proper operation. HVAC professional technicians follow industry and manufacturer best practices and maintain computerized logs to coordinate seasonal and periodic maintenance.
Whether you are maintaining a parking lot, Houston commercial lighting or HVAC equipment, preventive maintenance pays well. Your business will profit with lower costs, increased performance and fewer repairs.